Foreword by Alexandra Kiritsy
I have always found imagining the world of my Greek yiayia, say, around the turn of the 20th century, to be a difficult task. Looking back at old black-and-white photographs of her often tricks my mind into thinking that her world was somehow colorless and lacking in detail. Reading history books causes me to lose sight of how she precisely fit into the picture. Like many, I wish the impossible was possible. I wish I could go back in time and watch the lives of her and my other ancestors unfold before my own eyes. I long to experience her reality, complete with color and sound, and understand what exactly made her who she was.
In my opinion, the next best thing is the ability to read first-hand accounts of our ancestors' lives—personal stories that they have provided directly. Indeed, their imperfection lies in the fact that they lack any visual component, so one's imagination and creativity must still be employed. However, being able to read their own words offers the closest opportunity to being able to understand the world as they once saw it long ago.
I unfortunately do not have any such stories from my own Greek ancestors, and I suspect that I'm not the only one. Yet, what this absence should make us realize is the need for us to record our own stories, and even our parents or grandparents' stories. Perhaps in 120 years from now, someone may very well find his or herself in the same situation that I do now. Indeed, just as life was very different for our ancestors back in 1900, life is bound to be different for our descendants in 2140.
That being said, our hope for learning more about the lives of our ancestors of the distant past was never completely lost. Thankfully, some personal stories from Greece have been recorded and preserved over the years, and although they may not belong to our own ancestors, they nevertheless provide tremendous insight. Certainly, there are some aspects of human experience that are naturally shared by many, and thus, these are the bits of information that can truly start to connect us with our ancestors.
The following excerpts are taken from a Greek immigrant's account of her beloved village called Geraki in Lakonia, Greece. Katerina Konstiantou was born there in 1888 and arrived in the United States in 1911. Her story vividly illustrates life in Geraki around the turn of the century and ultimately helps us to realize the daily life experiences of our Greek ancestors.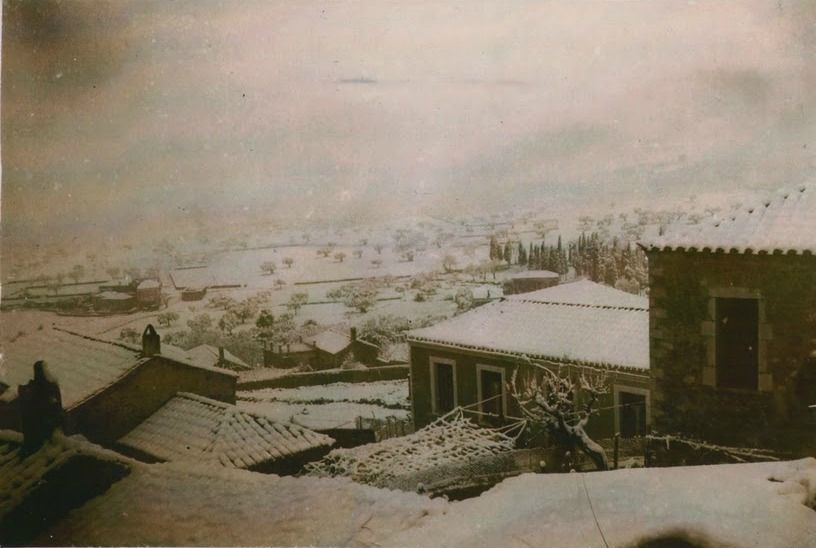 "Geraki, the village where I lived, was eight hours by donkey from Sparta, which was the nearest city to our village. There are several villages in the area but Geraki is the largest of them. Geraki has a courthouse which was the only one in all of the villages. The next largest courthouse was in Sparta. Geraki also had a police station which took care of all the villages in the area. The climate was warm with low humidity most of the time, similar to the California weather. There was never any snow. It rained occasionally in the wintertime and very little in the summer. Geraki had a population of 2,000 people at that time, which was prior to 1911, the year I left Greece. There weren't any streets only paths of dirt for donkeys which were used for transportation and also used for selling our wares: food and wine which we made from local grapes. We also sold linens and things we crocheted. There were also mules and horses to help us.
The villages were far apart, as each village had its own land and property where they kept their animals, such as chickens, pigs, donkeys, mules, horses, goats and sheep. Some of the people raised vegetables on their land. The people lived off of their land to survive. The land which they raised all their vegetables and food was about 10, 15 or 20 miles away from their homes. They either walked or went by donkey before daybreak, about 2am, to arrive there to pick olives and grapes, figs, wheat, & pears. We usually arrived home by 9 p.m. and we carried a lamp as there weren't any street lights and no electricity. There was no water in our homes so we had to go about a mile down the road to a spring and had to carry a large jug, or a barrel, to fill. The spring came from the mountains. They built a little house over this with a cement small pool to fill the jugs and barrels so the excess water ran out to the lands and gardens and watered them. We had no plumbing so the water from the barrel or jug was used to bathe and whatever else was necessary.
The homes in Geraki are made of local stone and marble. About 15 minutes away from my house there was a mountain where the marble was quarried and it was used in many homes. Some homes had marble stairways. Geraki is surrounded by plenty of large and very high mountains. Not too far from Geraki is the highest mountain in the Peloponnese which is called Taygetos. Our Post Office was in Sparta so a man had to go by mule or horse and bring all the mail, then take it to the neighborhood store, where each family had to go to pick and collect their mail. The only recreation that we had was during all the holidays such as Christmas, Easter, the beginning of Lent, saint's name days, and weddings. We had a square near our house (a plateia) and it had a center platform with stores all around it and people would gather there from all the villages for these occasions. It was out in the open and they would have bouzouki music and everyone joined in the dancing. Some would buy drinks (ouzo, cognac, loukoumi) from the stores and everyone joined in the fun and the socializing. This was also one of the ways the available young people could meet their future mates."
This is certainly not the end of the story, and perhaps in the future, we will publish more pieces of her account. One important message I would like to share in closing is that no matter how many difficulties or inconveniences were present in the life of these Greek villagers, they truly loved where they came from. To quote the author of this account, "If I could only move the mountains so that I could see my dear mother, grandparents, and family again, then I would be so happy, as my heart and love was always there with them."
Thank you for reading!
Note: The text was provided to Gregory Kontos by descendants of Katerina Konstiantou in 2011. Excerpts of the text translated into Greek have been published in the local newspaper of Geraki.
Share your story or consider making a donation by clicking here, and make your yiayia proud!