From Sunday, July 26th to Saturday, August 1st, Greek Ancestry is celebrating its 6-month anniversary. How?
Sunday, 26th – "Hellenic Genealogy Tourism": EMBCA, Hellenic Genealogy Geek and AHEPA are organizing a special webinar to be held on Sunday, July 26th, at 2pm EST. Lou Katsos EMBCA's Founder/President as well as the Chairman of AHEPA's National Hellenic Cultural Commission and AHEPA Empire District 6 Governor will moderate the panel. The panel will include the Hellenic Minister of Tourism Harry Theocharis; the Founder of HGG, Georgia Stryker Keilman; Gregory Kontos, the Founder of Greek Ancestry based in Patra, Hellas; Peter Vlitas the Senior Vice President of Airline Relations for Travel Leaders Group and AHEPA HELLAS Governor Efstathios Kefalidis.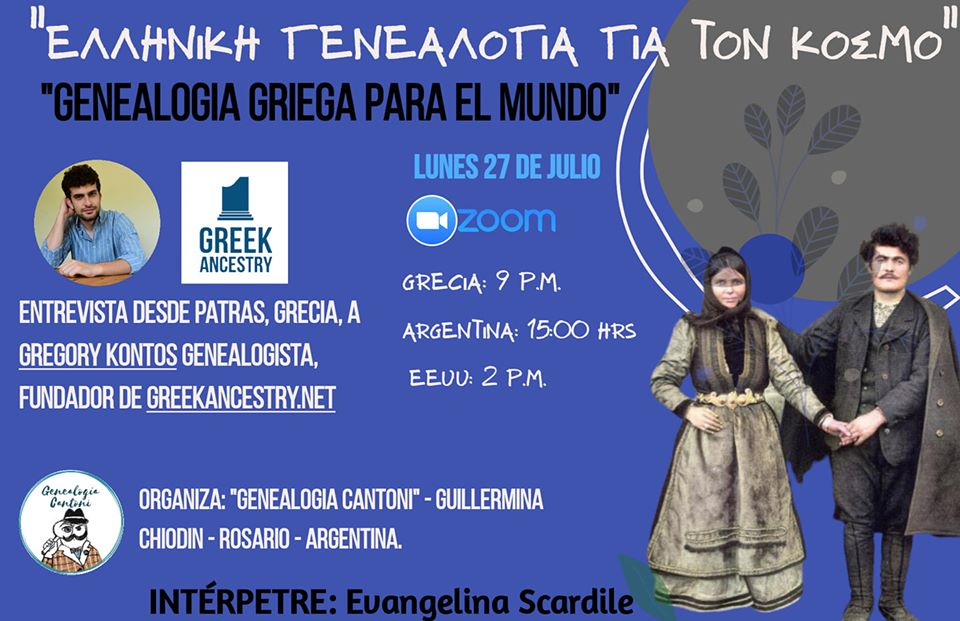 Monday, 27th – "Genealogia Griega para el mundo": Guillermina Chiodin Guimpel of Genealogía Cantoni – Caminos de Inmigración, Rosario, Argentina, is organizing a unique Greek genealogy webinar for our friends in Argentina and South America. The webinar starts at 3pm Argentina, 9pm Greece, 2pm EST, and will be available through Zoom. Gregory Kontos of Greek Ancestry will A link will be shared in advance.
Monday, 27th/Friday 31st – Special Greek Ancestry SALE: From Monday 27th to Friday 31st, all Greek Ancestry records will be offered on a 30% SALE! Have you located many records of interest? That's the best time to get them! Remember all records are provided with a transliteration/translation in English, a record image and a full source citation, in compliance with the highest research standards.
August 1st – New records: On August 1st, over 50,000 new records will be added on Greek Ancestry! These will include more of Arcadia's old voter lists of the 1840s and 1850s, as well as a very special Spartan collection of parish voter lists from the 1910s to the 1930s, accompanied by a relevant article!