By Gregory Kontos
In 1824, the theretofore successful Greek Revolution which had been launched in 1821, showed signs of fatigue and uncertainty. On the one hand, internal conflicts had started among the revolutionaries' leadership, while, on the other hand, the Ottoman Sultan asked Mehmet Ali of Egypt for help against them. Mehmet Ali sent his son, Ibrahim, who arrived in Methoni in February 1825 with an infantry of 4,000 men, a cavalry of 500 and a thousand of other soldiers and auxiliaries. Ibrahim did not meet any real opposition. His army was soon increased by thousands of men and within a few months, they had conquered Palaiokastro and Neokastro (Pylos). In June, Ibrahim took over Tripoli, the centre of the Peloponnese, and on August 30th, he began his invasion in Lakonia. A second raid followed in 1826 and despite the Lakonians' resistance, Ibrahim managed to reach Monemvasia.
During those two invasions, Lakonia suffered immeasurable disasters. Crops were destroyed, villages were inflamed, while many Lakonians were killed or captivated. Most of them were taken slaves to Egypt and only a few managed to return home, thanks to the efforts of Governor Ioannis Kapodistrias, the Greeks of Egypt and Philhellene groups across Europe.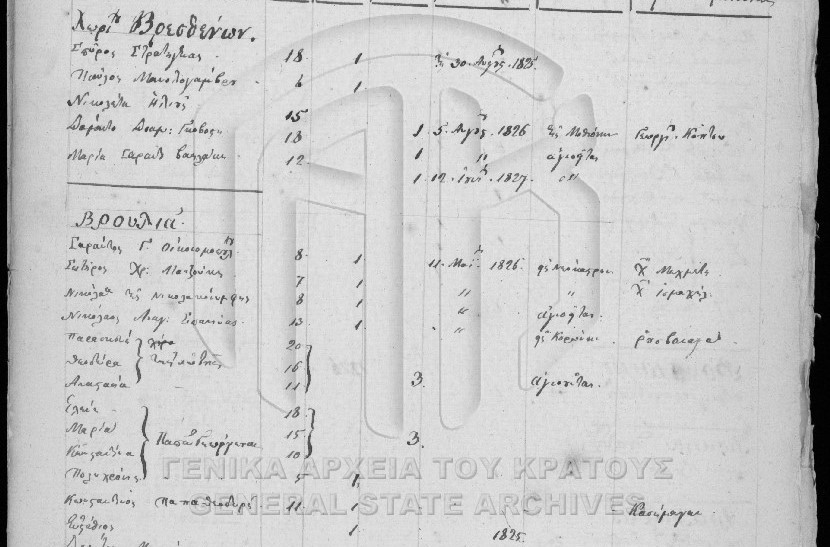 Kapodistrias was particularly interested in the fate of his compatriot captives and, right after he took up his duties as Governor in 1828, he requested lists of them from the administration of the infant Greek state. Those lists included all information necessary for a systematic effort to bring the captives back home; not only the captives' names or where they came from, but also their age, current location and owner, when known. According to surviving lists, more than 600 Lakonians were taken as captives; most of them were from the villages of Niata, Kremasti and Arachova. In 1828, the majority of those captives that the authorities had managed to locate was still in the Peloponnese: in Methoni, Patras, Pylos and Koroni; however, 17% had already been transferred to Egypt's slave markets!
Among the captives was the family of Mitros Kanellis, my 4th- or 5th-great-uncle from Geraki, Lakonia. Panos, Maroulitsa and perhaps one more child were caught by Ibrahim's troops. Aikaterini, Mitros's wife or daughter, tried to flee to a nearby Monastery in Vrontamas, where about 400 people had found refuge. But soon the enemy's troops arrived there as well… The Christians locked themselves in the Monastery and Ibrahim set it on fire! Aikaterini had not managed to get into the Monastery and was caught. In 1828, she was a slave in Methoni, perhaps hoping she had met the fate of her compatriots back in Vrontamas. We do not know what eventually happened to Aikaterini, whether she was freed or taken to Egypt. But even liberty would not mean much at that point. Most likely raped while in captivity, it was not easy for Aikaterini to return to Geraki. Despite her martyrdom, for her compatriots she had been "defiled" and like many other women she would likely prefer remaining a slave than taking back a freedom she could no longer use.
"Tracing Freedom: 1821" is Greek Ancestry's way to honor people like Aikaterini, as well as those who fought for our independence and freedom. In the context of this project, a series of relevant articles and stories will be published throughout March 2021, while thousands of records will be provided for free. Let's make a start today! If you manage to find an ancestor in Lakonia's 1828 captive list (included in Greek Ancestry's Lakonia searchable database), just contact us through our website and you will receive the relevant record FOR FREE!