By Carol Kostakos Petranek
"If you want to do history, start with the history of your family." When Ioannis Papachristou first heard these words from Prof. Agamemnon Tselikas, they sank deep into his soul. At that time, he was a university student studying philosophy and already immersed in capturing stories told by the elders in his family. "This is a phrase that inspired me and it is how I started expanding my research from family history to historiography," he said.
Ioannis' enthusiasm for, and dedication to, the histories of families and places prompted him to initiate a project which is the second beneficiary of the Greek Ancestry Village History Project Initiative (VHPI). Peplos (History and Genealogy) / Πέπλος (Ιστορία και Γενεαλογία) will preserve the history of the village and its families by creating both an e-book and an accessible archive. Peplos of Eastern Thrace is a village of 800 people in area that has been generally neglected both in historical and genealogical works. Thus, this project is both ground-breaking and extremely important.
Raised in a three-generation household, Ioannis grew up listening to his grandparents and great-grandparents reminisce about life in their villages. "When I was 20 years old, I began writing the stories that family members repeated," he related. "From those stories, I was able to write short biographies. I posed questions to the elders and was fascinated when they talked about their lives in the villages–Eastern Thrace on my father's side, Marmara Island on my mother's side. This led me to focus on the history of the places as well as the genealogy of my family."
Ioannis' research in Marmara for the past 16 years prepared him well for the larger project in Peplos. "I have the know-how, which areas to focus on, what questions I should ask, what future generations would want to know," he explained.
To preserve the history of Peplos (Ottoman name, Marhamlı), Ioannis has assembled a team of seven volunteers, all born in the village and each with a specific area of expertise. "I wanted young, intelligent people who desire to do this from the bottom of their hearts. I chose persons based on what they are interested in offering, what they are interested in learning, what they know already and what they want to share," he described. The team works with the President of the community of Peplos and the village priest. Both are enthusiastic supporters who also assist in accessing church and civil records.
The team members are:
Anastasia Siarvali: her grandfather was a member of the community council in the 1950s. He has an important archive of documents, photos and personal knowledge which provide rich historical context. For example, Bulgarians living in Peplos had built a church prior to 1922. Through his archive, we can document the decision of Greeks to destroy the old church and build a new one in the late 1960s. Anastasia is willing to contribute to various chapters of the e-book such the geography of the area and place names of Peplos and the surrounding area.
Dimitris Tsotanidis: the youngest-ever President of the community of Peplos. His support is invaluable to the team and assures the villagers of the project's importance.
Alexandros Karadedos: a civil engineer who is creating a plan of the village. Each house will be listed along with the surnames of the families who inhabited it. This cross-reference of surnames and buildings will allow future generations to locate their ancestral homes. Alexandros also has an interest in the Albanian Christians and Arvanites in the region and will share his research of their origins in the village.
Lakis Giannoulakis: teaches traditional dances of the village. He is writing about traditional dances, local customs and the histories of the two cultural societies of Peplos.
Giorgos Mpougiouklis: studies the history of World War II. His work focuses on people of the village who were involved in World War II and the Greek Civil War.
Stavros Danakis: is collecting information about the histories of the shops in the village. By going door to door and interviewing shop owners, he is compiling a list of all shops; the dates they were founded; the names of all owners, past and present; earlier and later uses of the building and the fate of the business. With many stores now closed, this information captures a history which is in danger of being forever lost.
The team started its research with resources available in the community: civil and church records kept in the village. It will then expand to the larger archives in the municipalities of Ferres and Alexandroupoli. The team is also asking villagers if they have something to offer to the project. "This is the most difficult part," Ioannis said. "People don't know what they have. We knock on doors and explain about the project and ask if they have a story, a record, a photo, a document to share."
When conducting oral interviews, Ioannis leans on his childhood experiences interacting with his elders. "I am familiar with their worries about life ending and about feeling the anxiety of leaving something behind for their grandchildren," he clarifies. "I enter the house like I am a grandchild and I belong in the family. When elders feel safe they will tell you anything, even things that hurt them or didn't go well. I ask them to describe the houses where they were born; how many rooms did it have; experiences they had in the house. I even ask questions like how were they bathed? This triggers many memories and they can then provide insights about their everyday life 80 or 90 years ago. I pose a question and listen, and I never interrupt. I keep notes. Sometimes I will record when they allow me."
The importance of the Peplos project cannot be overstated. This research is being conducted meticulously and comprehensively. At its conclusion, every aspect of the village and its people will be documented, sourced and made available to the public. "Whatever we collect should be accessible to anyone," Ioannis emphasized. "These materials will be safely kept in a museum, an institute, a university or a library – someplace public and accessible, where the objects will be preserved." There is discussion of starting a website where the e-book, photos and documents can be easily made available.
The goal of the team is to have the e-book published by the end of 2022, which is the centennial commemoration of the Asia Minor catastrophe and the population exchange between Turkey and Greece. "This e-book is about the future," he said thoughtfully. "My thinking is: I am living 300 years from now and I only know the name 'Peplos' and I am trying to learn about the village. What would I love to find?"
In conclusion, Ioannis has this advice for anyone interested in starting or expanding into a village history project:
First, start with the phrase of my teacher, "If you want to do history, start with the history of your family." People need to ask questions of everyone–their grandparents, parents, uncles, cousins. If we start with this core of family knowledge, the horizons will open.
Second, move quickly. Interview the oldest people first. If we spot a record, a document, a photograph of a house, church, institution, or whatever, act fast to capture the information. Never do I say "leave that for next month."
Third, we need knowledge. Go back into books; learn what others have written about the area. There is always new material to open our eyes and help us better focus on what we need to research.
---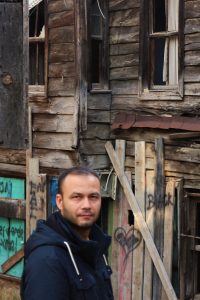 Ioannis Papachristou was born in Athens to families hailing from Eastern Thrace and Marmara Island. He studied Philosophy at the University of Patras (BA) and the University of Athens (MPhil) and received his PhD in Ancient Philosophy from Humboldt-Universität zu Berlin. He has been a postdoctoral researcher with teaching duties at various universities (Humboldt, Paris IV-Sorbonne, Genève and Athens). Currently he is working on the research program 'Sourcebook of Byzantine Philosophy' (University of Athens). He studies the history of the area of Propontis and published various articles on Marmara islands. In 2015 he edited the Anagraphē tēs Kyzikou (A Description of Cyzicus, 1825), a 19th-century historical treatise on Artakē and the Peninsula of Cyzicus (Kyzikos Publications — awarded by the Hestia of Nea Smyrnē). In 2019 he published the traveler's book Το μαρμαρένιο νησί. Περιηγήσεις στον Μαρμαρά της Προποντίδας [The Marble Island: Travels in Marmara Island], Baltas Publications, 2019. In 2019-2020 he participated in the Research Project 'The Islands of Marmara: Documentation and Risk Assessment of Architectural Heritage' (Association for the Protection of Cultural Heritage, Turkey) publishing a bilingual volume on the cultural heritage at risk of the Marmara islands. He co-administrates the Facebook page Marmara Island (History and Genealogy) and runs the website www.periegesis.gr a page presenting his travels in Greece and Turkey.