By Carol Kostakos Petranek
We never know what we will uncover as we explore our Greek roots. For John Wagner, his connection to the family which founded Fix Hellas beer was unexpected but not surprising. As Bavarians by birth, the Wagner/Wanger (Βάγγερ) and Fix (Φιξ) families arrived in Greece in 1837, when King Otto selected 31 military men and their families to settle the village of Palaio Iraklio, about 10 km northeast of Athens. While some of these families returned to Bavaria, when the king was deposed in 1862, many stayed. Among them were Wagner and Fix descendants.
"I have evidence of Ioanna Wagner marrying into the Fix family," John explained. "Because the colony was so small and intertwined, they are all connected biologically or through intermarriage. On my Paleo Iraklio website, I show that I am related to 6 of the 31 people who originally settled the village. In Greece today, there are about 25 German surnames which are traced to these founding families."
John was always interested in family history. Having a German surname and raised in a Greek family caused him to be inquisitive, but an earnest pursuit began about six years ago. "I was gifted a copy of a village history book which was a collection of photos compiled by the local village historian, G. Rossolatos. Along with that, I had a copy of the book, The Chronicle of Heraklion, Attica (Το Χρονικόν του Ηρακλείου Αττικής) by Georgios Maltezos which rested on my father's night table. With these two books, I knew I had a solid foundation for a research project," John related. When he saw entries from the General State Archives of Greece (GAK) in the books, John understood that primary sources and additional information about the village was available. Thus began his search for the original records: "I spent a tremendous amount of time looking for documents referenced in the book and countless hours flipping through indexes on the GAK website."
John's "Holy Grail moment" came when he discovered the official royal decree granting his ancestors a parcel of land in Paleo Iraklio. With the help of an online German translation Facebook group, German Genealogy Records Transcription, its details were uncovered. "I was able to confirm the name of my ancestors and my 3rd great-grandmother's name and their 4 children. I learned the village in Bavaria where they originated and discovered that he was a winemaker– all this was derived from that one GAK document," John enthusiastically explained.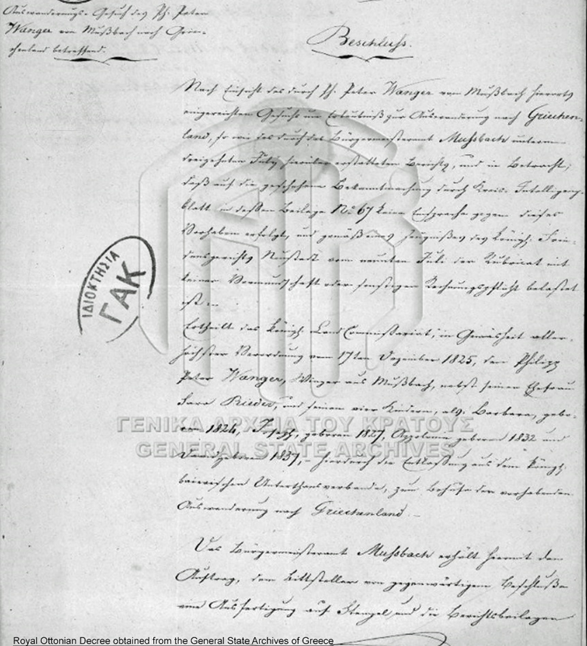 Another vital piece of information in this document was the correct spelling of John's surname. "My name is not Wagner, it is Wanger. It's interesting that in Greece, they do pronounce the name as Wanger which is the proper pronunciation of the original Bavarian name. There are a lot of Wanger relatives in Greece, and any from Paleo Iraklio are related because we all descend from one person," he said.
John was now hooked. His work expanded into a village project as he patiently and diligently explored the internet, joined Hellenic Genealogy Geek, and discovered many resources. "I began my research project with the slow accumulation of information, entering data into an Excel spreadsheet and starting a family tree online at MyHeritage," he explained. The SmartMatching technology on MyHeritage sends new hints to his tree which greatly facilitates and eases the research process.
The GAK records were instrumental in enabling John to establish a link to the German records, but he emphasized that his most important resource was FamilySearch's microfilms of the records of Paleo Iraklio's Catholic Church, St. Luke (Agios Loukas). "I am the biggest beneficiary of the microfilming project," he related. "I ordered a microfilm which had all the birth, death and marriage records of Agios Loukas. I have transcribed every record on that film. They were there for the taking. Hundreds of names are now in my Excel spreadsheet and a fairly large proportion of them appear in my tree. The amount of information I was able to glean from the films is enormous."
John is actively seeking to expand his research. "I've always said genealogists are selfish in that there are never enough people in their tree. We are missing this branch or that. There are always brick walls, ambiguous records, information that can't be found, and lots of common names where it's hard to attribute a family connection. It's a continual exploration of the various branches and it never ends."
When asked if he had a specific research strategy, John replied, "I gather as many records as I can. I enter the data on a spreadsheet which can be sorted. I organize family units by looking at the surnames and finding common parents. It's not a question of just finding, but also of compiling it in a central location. Then the connections become obvious. My role is to seize those connections."
John's suggestions to those considering expanding their into a village project: "My advice is patience, perseverance and tenacity. You will not discover your family roots in an afternoon. It's a lifelong experience. I learned that every village has their own family historian. There is always someone who knows – seek out that person, whoever it is. If you can't find a village historian, then you should be the village historian! Take it upon yourself to carry the mantle. The research you do is important for generations. With social media and the internet, sharing information is easy and there's no excuse to not do so. You can't get information unless you share information. It's a two-way street. I encourage people to be forthcoming and make yourself available."
Finally, John credits Greek Ancestry's Village History Project Initiative (VHPI) as a catalyst in his endeavor and in publishing his website. "When I found that this initiative was being formed, it was the motivation I needed. It provided a platform which allows me to assemble with others who have a similar village project, and it provides a centralized location where people can access these projects. The VHPI is a way for me to showcase my work, which I hope will create interest and encourage other people."
Greek Ancestry commends John for his steadfast commitment to researching a truly niche subject, Bavarian-Greek genealogy, and we wish him continued success. "I consider myself very lucky," he remarked. "In genealogy its sometimes better to be lucky than to be good." Fourth beneficiary of the VHPI Grant, John is going to present his project at the 2nd International Greek Ancestry Conference (Jan. 29-30th).
Biographical Information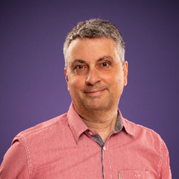 Bavarian descendant John Wagner was born and raised in Montreal, Canada, the chosen homeland of his immigrant parents who both arrived separately from Greece during the 1950's. His father, grandfather, and 7 aunts and uncles were all born in Paleo Iraklio and all immigrated to Canada during the same period. He continues to pursue genealogy projects that help him understand his Greek and Bavarian roots and hopes to help others understand this aspect of Greek history.