In a few days, on April 16th, Hellenic Genealogy Geek celebrates its anniversary. When it was created ten years ago, in 2010, no one would have imagined the developments that were to follow in the field of Greek genealogy. Feeling blessed to have participated in some of them, I decided to list those which I consider the most emblematic and add my own testimony. It is a story of people sharing their passion and joining forces to advance Greek genealogy.
April 2010 – Foundation of the Hellenic Genealogy Geek! The blog and Facebook group add content and members continuously since then. Currently, the Facebook group counts approximately 24,400 geeks, who exchange information and help each other with their family history research. Hellenic Genealogy Geek founder, Georgia Stryker Keilman, has conducted extensive research through US archives and has compiled a very interesting collection. The content to be found on Georgia's website can be very helpful both to amateur and professional researchers. The HGG is the forum and emblem of our community!
2011 – The Family Trees of Southern Parnon grow… TheFamily Trees of Southern Parnon project aims at pulling together information on the families of Eastern Lakonia. The project, launched in 2002, was an inspiration of Dimitris Katsampis, a Spartan in Adelaide. Soon, Dimitris was joined by genealogy titan Stelios Chagias. The two friends never ceased adding content to their project, hosted on Tribal Pages. In 2011, the team, by then increased by two more passionate members, asked me to join them and we started discovering extensive archival material we did not know of before. The project boomed with thousands of new names being added monthly. Stelios and Dimitris keep up their great work, and, currently, over 44,000 names are included in the Family Trees of Southern Parnon database.

November 2014 – "Ancient Roots", the Greek episode of "Finding your Roots" was aired on PBS on November 18th, 2014. The guests were three prominent Greek Americans: George Stephanopoulos from Patras & Kyllini, Tina Fey from Mani and Ikaria, and David Sedaris from Lakonia. Serving as the program's main researcher, I conducted a total of 100 hours of research for all the guests' families. I traveled to their ancestral places, met living relatives and pulled together wonderful information. Our amazing co-operation with Ark Media entailed a rewarding result. "Ancient Roots" was not just another great "Finding your Roots" episode. In fact, it brought Greece into the international genealogy arena and was the first episode in a dense series of wonderful developments that followed.
April 2015 – The First National Hellenic American Genealogy Conference was held in New York on April 25th, 2015. The conference was organized by Lou (Ilias) Katsos, a businessman and leader in the New York Greek community, who brought together all the pioneers of the field in an unforgettable event. The conference received extensive attention from Greek American media and proved the dynamics of Greek genealogy research.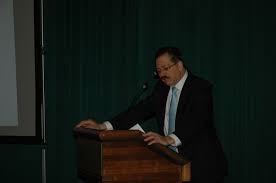 Lou Katsos, First National Hellenic American Genealogy Conference
September 2015 –A Hellenic Genealogy Conference in Salt Lake City followed the conference in New York. This conference, organized by Dawna Stevens and Carol Kostakos Petranek and held on September 26th, focused more on archival and historical research in Greece, and therefore made the perfect complement to the New York conference. Moreover, being a more small-scale venue, it encouraged other Greek American communities to organize similar events. Ever since, Carol Petranek and Georgia Keilman have given numerable presentations all over the country.
December 2016 – MyHeritage gets interested in Greece after some very interesting research in Corfu conducted by CEO Gilad Japhet. MyHeritage's team contacted Carol Kostakos Petranek and me, and a wonderful co-operation began. MyHeritage was soon in Greece digitizing old Greek records, among which the Marriage Archives of the Metropolis of Monemvasia and Sparta. Carol took up the digitization, while I was in charge of the project's organization. In total, more than 100,000 pages were digitized and 40,000 marriages were indexed. MyHeritage's operations continued with more projects in the following years.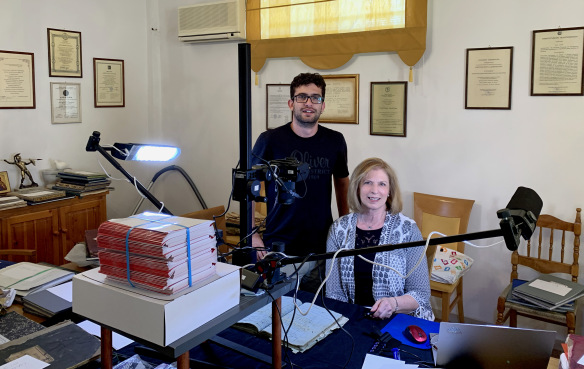 Carol and I, Taking a break from digitization
2020 is the year of the triple success as three developments are taking place, encapsulating the progress made in the previous years and launching a new era in the field Greek genealogy. First of all, the conferences of the past five years found their crown in Kathleen Kaldis's Greek genealogy presentation at the RootsTech, the ultimate genealogy conference worldwide. Greek genealogy is now recognized as a field of international relevance.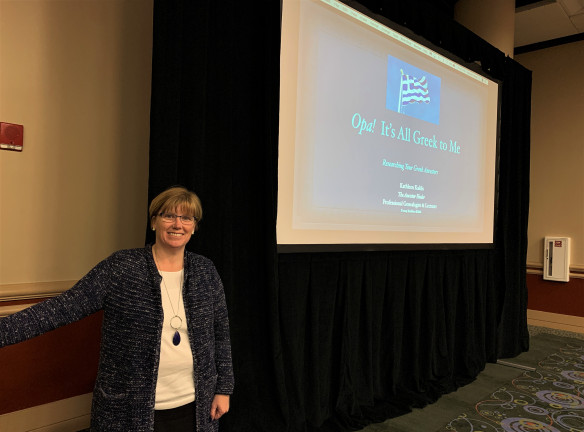 Kathleen Dorothy Kaldis, Presentating "Opa! It's all Greek to me" at RootsTech
At the same time, the countdown has begun for the release of MyHeritage's Greek collections, counting a total of at least 2 million names. Last but not least, with MyHeritage's blessings, Greek Ancestry has been founded to make more Greek records accessible. Greek Ancestry is a private business based in Patras, Greece. Its team of professionals, counting about 10 people, works on a daily basis for the discovery, digitization and indexing of a vast number of collections, many of which are to be found exclusively on Greek Ancestry. The website makes Greek research cheaper, as it operates without subscriptions, faster, as a simple surname search will give you lists of results, and massive, as new areas and more than 50,000 new records are added on a monthly basis. At the same time, Greek genealogy consultations are provided every weekend for free and webinars will be available soon!
From now on the field needs to take advantage of the progress made in the past years. At the same time, the focus on preserving historical collections, rather than simply using them, will determine archival availability and accessibility in the decades to follow. Co-operations are deemed necessary, and, for this reason, as Greek Ancestry's founder, I would like to make an open call to whoever is interested in the advancement of the field.